God Nose
I had this plastic bag on the top of my bookcase. It was full of old comic books - old comic books. It had some comics that I purchased a long time ago and a few that someone gave me. I had not looked at that stuff for a long time but I knew that in there were some old Gilbert Shelton comics and some old copies of the Ranger, the University of Texas humor magazine from back in the 60's. And something else from that time kind of special, a copy of Jack Jackson's "God Nose", a little homemade comic book that he had put together, sort of sacrilegious and very funny.
I was sitting at my computer one day and for reasons that I cannot recall, I googled "God Nose". The first item that came up was Heritage Auctions, a company in Dallas, that had just sold a first edition for $5,000 (There were later editions published).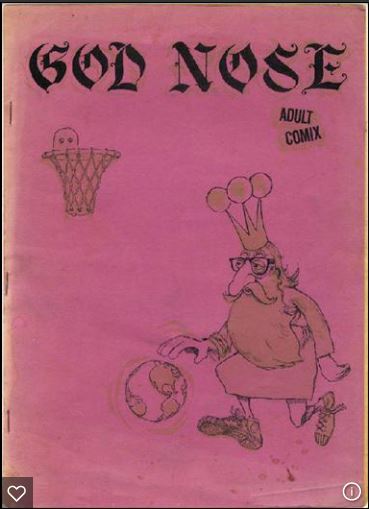 When I caught my breath, I got up from my chair and looked in that plastic bag to make sure that my copy was still there. I then went to the website of the auction house to look at the item and there was a box to click which said "I own one". So, I clicked and immediately got in touch with someone in charge and we exchanged a few emails.
I told him that I do have one, I knew Jaxon (his nickname and pictured below) back in the day and I probably bought it from Jaxon himself. He told me that he knew Jaxon also. He wanted to know what kind of condition my copy was in, were there any torn pages, was it faded, etc.? I assured him that it was in fine condition and so he wanted me to send him a photo of it. I took a picture of the front cover and sent it to him. His message came back that he thought that it was kind of faded. "Maybe you could get $3,000 for it." And I thought maybe he would like to have it for $3,000 and then auction it for more. I dropped my connection to Heritage Auctions.
On the top floor of the Alkek Library on the campus of Texas State University, is the Whittliff Collections. In their words: founded in 1986, the Wittliff Collections are devoted to collecting and preserving the creative legacy of the Southwest and to fostering "the spirit of place" in the wider world through the acquisition of significant archives and works of the Southwest's literature, film and music, as well as the photography of the Southwest and Mexico. It is a fun place to visit especially if, like me, you are interested in the culture of Texas, the Southwest and Mexico.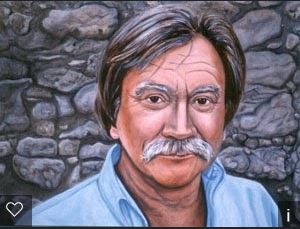 The Whitliff Center had recently hosted a feature called "Armadillo Rising" about the culture of Austin in the sixties and seventies and I know that there was a part of it about Gilbert Shelton, a cartoonist and member of the Ranger staff. I did not get down there to see that feature but a neighbor friend of mine did. I had told her that I had some old Shelton comics and something else very special. She told the folks at the Whitliff Center what I said and then we got in touch. The Whitliff archivists wanted to see what I had.
At the appointed time I placed in a briefcase my copies of the Shelton comics, a few copies of the Ranger and put the "God Nose" on the bottom. I sat down with the archivists and took the items out one at a time. As I did so, I told them that I knew Gilbert Shelton, Lieuen Adkins, Lynn Ashby and others back in the day and I explained how this happened. Lynn Ashby and I were the two worst students in Russian class and we sat together in the back of the classroom. Lynn was the editor of the Ranger at the time and he would tell me where the Ranger party was going to be. This valuable information was usually a secret because so many people wanted to go to the Ranger party on the Saturday night after an issue of the Ranger came out. I also knew some of the Ranger people because the cavers (I was a caver) would go to Scholz's Beer Garten after a meeting and so did the Ranger staff. At the parties and at Scholz's I also met Janis Joplin, Molly Ivins, Powell St John and others. I also knew Jack Jackson because he lived around the corner from me. I would sometimes stop by his house on the way home from school and It was probably on one of those occasions that I purchased a copy of "God Nose" from him. I was fortunate to have known all those talented people back in the day but enough of the name dropping.
As I went through the stack of comics and copies of the Ranger I finally came to "God Nose" and placed it in front of the archivists and told them about my exchange with Heritage Auctions. Of course, they wanted me to donate the entire stack of material. I told them that they could have the other stuff but I wasn't so sure about the "God Nose". "I will think about it", I said. They contacted me later and offered me $2,500 for my copy of "God Nose".
That same day, I was having a beer with some friends at - you guessed it - Scholz's Beer Garten and I told them the story and about the offer of $2,500. I asked them if I should (1) take the offer or (2) try to sell my copy for more money. They voted unanimously for (1). OK, so I let the people know at Whitliff and they turned me over to some office in charge of purchasing for the university. I took my copy down to them and they were happy. And I was happy too to make a contribution to their archives. I did have to pay income taxes on the transaction. But continuing in the spirit of generosity as I filled out the Capital Gains Form, I did not subtract my "initial cost" for the item which was displayed on the cover of "God Nose". It cost me 50¢.
---