*My Country Music Memories*
Very Early Memories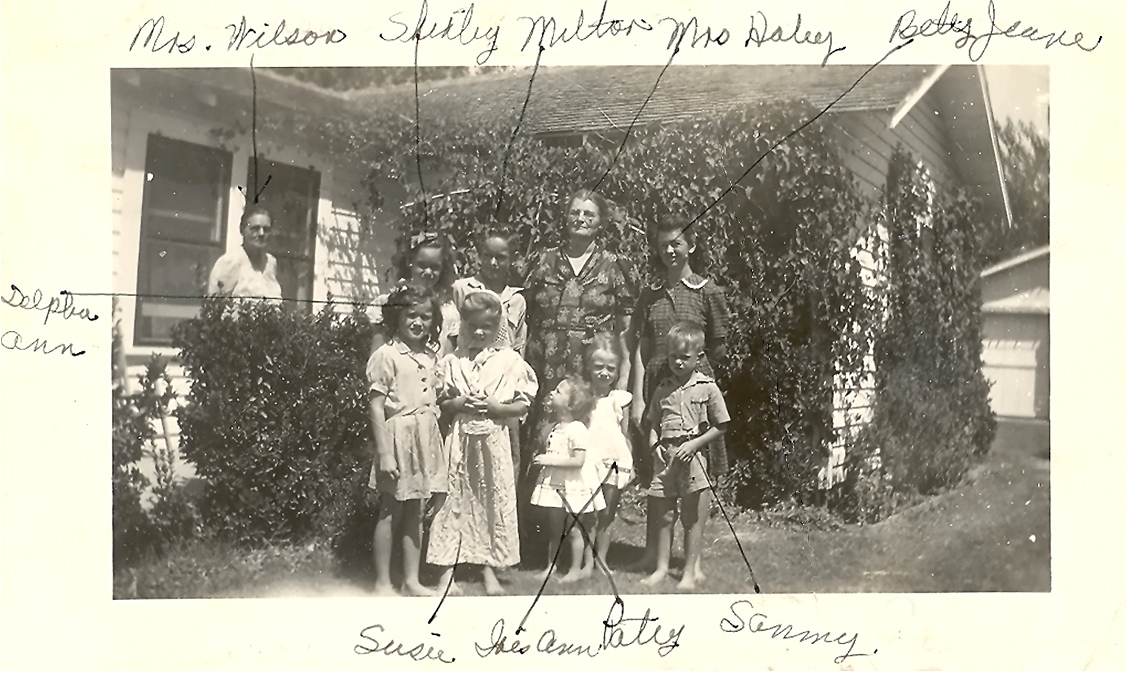 Ernest Tubb was my hero. I knew all the words to "Walking the Floor Over You" and "Detour". I was kind of obsessed with country music to tell the truth. The other kids and my siblings tolerated my obsession and I think my parents were a little puzzled by it. I remember once when I was singing "yeah, my bucket's got a hoooolle in it. Can't buy no beer" (Hank Williams). And mother scolded me for that.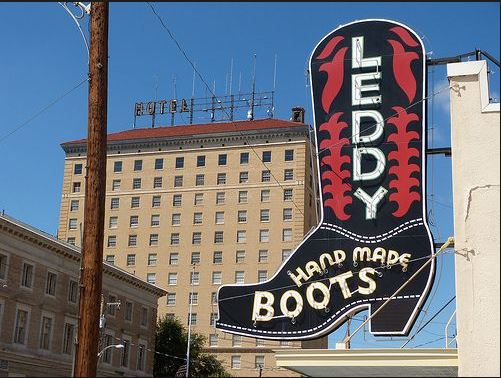 I was born in 1937 in San Angelo, Texas just East of the railroad tracks. Wikipedia says that Ernest Tubb moved to San Angelo in 1939 and then went to the Grand Ole Opry in 1943. Maybe he went to the Opry but he sure kept coming back, because I remember that he played regularly at the Dixie Club and he had a radio program on station KGKL at noon and I was always listening on the big old combination radio and record player that we had in the living room. You might remember those big cabinets with a radio dial in front and a lid on top which opens up to a 78-rpm turntable. Our small collection of records was behind a door underneath. We gathered around that thing every Sunday night to listen to the Jack Benny show, Amos and Andy, and Edgar Bergen and Charley McCarthy. TV did not come to San Angelo until I was in high school.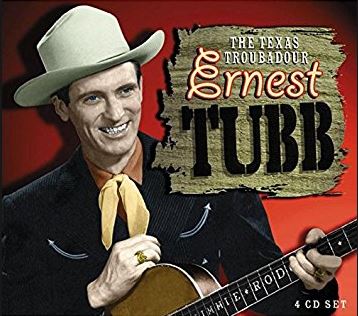 But I loved Ernest Tubb. I wanted to see him perform in person but this was impossible since he played at the Dixie Club and my fundamentalist Church of Christ upbringing prevented me from being in a place of sin where people are drinking and dancing. Besides, I was too young. The Dixie Club was the honky-tonk on our side of town on the railroad near the cow pens and sheep barns. The other honky-tonk was the Hangar on the West side of town, an actual old airplane hangar converted to a dance hall.
But I did get to go into the Dixie Club once. My brother-in-law, Floyd, drove an R. C. Cola truck delivering to establishments around the San Angelo area. He took me along as his helper sometimes and one day we actually stopped at the Dixie Club for a delivery. I remember that it was pretty much empty, dark, and had lots of beer signs on the walls. If mother had found out that I went in there, I could tell her that I was just helping Floyd.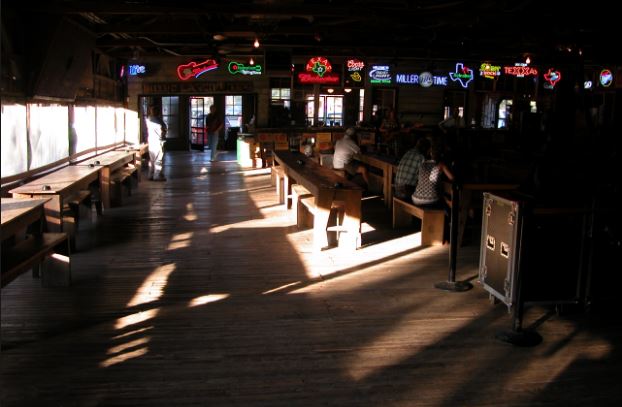 Radio station KGKL also carried the Bob Wills show sponsored by Lightcrust Flour. They signed on with a theme song that went: "We're the Lightcrust Doughboys from Burris Mills". The songs "San Antonio Rose" and "Faded Love" were on the radio all day and believe me, the whole town took notice when Bob Wills came to town. When he did, he always played at the Dixie Club and I will never forget how shocked my siblings and I were when we found out what our parents did on one of those occasions. I am pretty sure that some friends of theirs talked them into it. They actually went to the Dixie Club, they danced to Bob Wills' music, drank beer, and had a good time. Such was the powerful influence of Bob Wills!
I diverge for one little Bob Wills vignette: It was the mid 90's, I was living and working in Alabama and having some beer with my buddies at a joint in Auburn, Alabama on a Friday afternoon. Waylon Jennings was going to do a concert that night at the Auburn University Coliseum. Some guys came in and sat at a booth and you could tell that they were from out-of-town. I went over to them and asked if they were with the Waylon Jennings group. They said yes, and I told them that this is not really a restaurant in spite of the name (Supper Club) but they do have pizza and beer. Then I told them that some of us at my table are Texans, we will be there tonight and we have got to hear "Bob Wills is Still the King". It was a wonderful concert that night and yes, they played it.
The Radio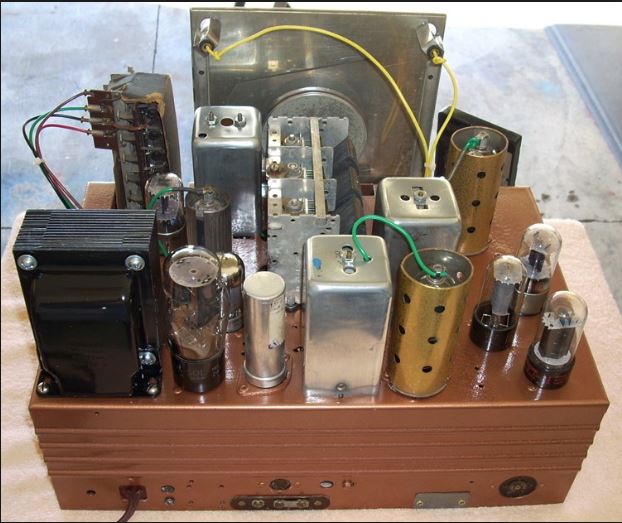 I spent a lot of time listening to country music on that big radio in the living room. There was another station (not KGKL) that played a lot of country music. And another station in Ballinger. Webb Pierce and Lefty Frizzell had some big hits at the time and of course, Hank Williams. One of the memories that sticks with me is that the DJ before the end of each program would say something like "And now it is gospel time" and then play a song by the Chuck Wagon Gang. To this day, I have a vinal record of the Chuck Wagon Gang in my collection. "I'll Fly Away" is forever embedded in my memory.

Across the side street from us lived the Hightowers. There was the elderly Mr. and Mrs. Hightower and two grown bachelor sons, Bill and Clarence. The Hightowers were from Arkansas. Their residence had some features that the rest of us in the neighborhood did without. They had an outhouse, a wash-house and a big iron pot in the back yard where they would occasionally build a fire and make lye soap. One of them, Bill, I think, sometimes lived in the wash-house where he had a bed next to the old open tub wringer washing machine.
I was in there one time talking to Bill and I noticed that he had an old radio. The radio did not have a housing. It was just a frame with vacuum tubes and a dial. He told me that it had quit working and said that I could have it if I wanted. So, I took the radio home and then took the tubes to a place where they could be tested. The tubes were ok but I noticed that a little light bulb above the dial did not come on when the radio was turned on. I somehow found a replacement for the bulb, put it in, and the most wonderful thing happened - the radio came to life! Now I had a connection to the music I loved and the radio was in my room. It was a beginning.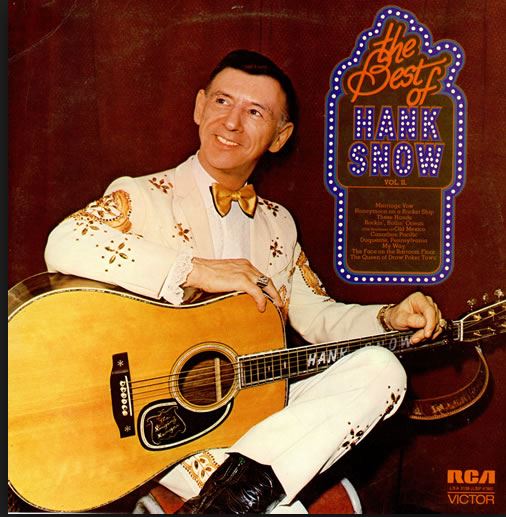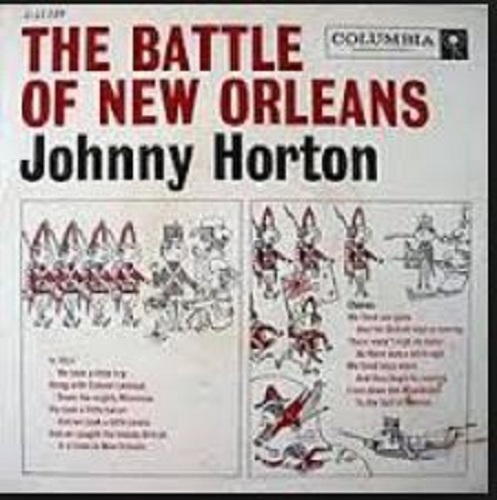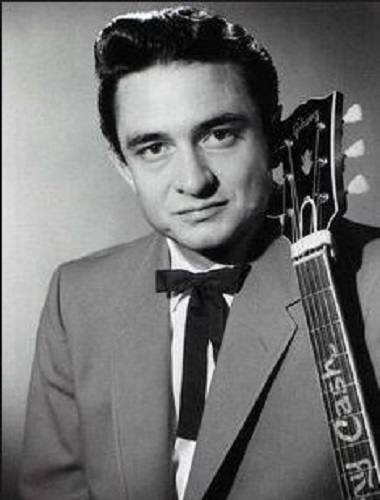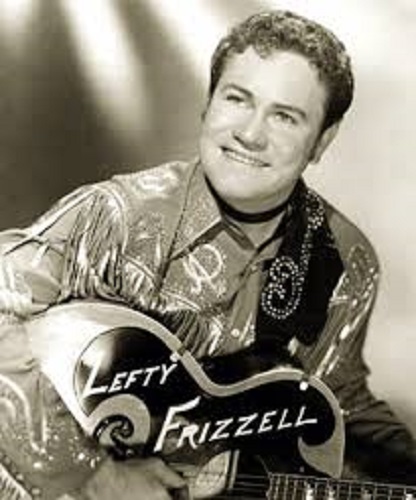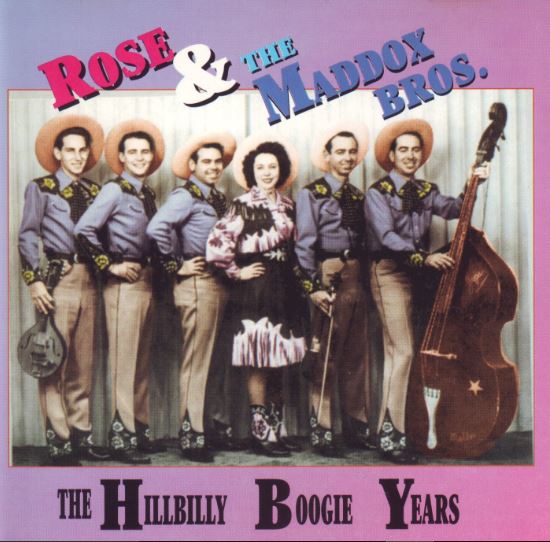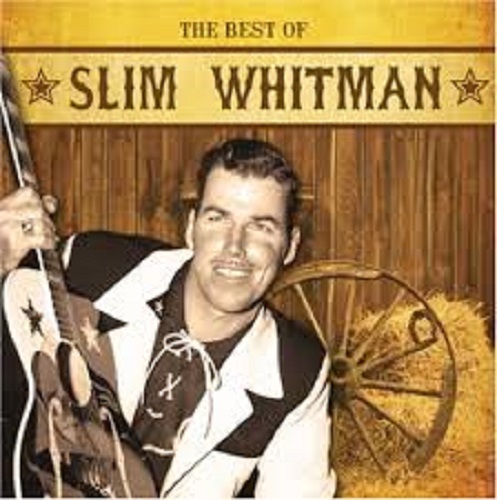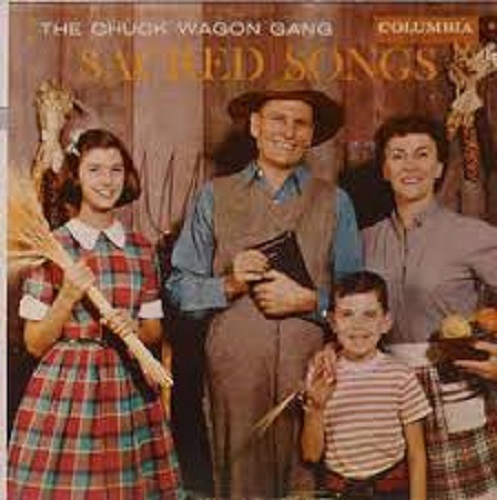 It probably did not take me long to find the Louisiana Hayride on station KWKH, Shreveport, Louisiana. I listened every Saturday night and became a big fan of some of the regular performers. Among them were Johnny Cash, Jimmy Dickens, Johnny Horton, Grandpa Jones, Jim Reeves, Slim Whitman. There were other more famous names too but a particular favorite of mine was the Maddox Brothers and Rose.
I diverge again for a Rose Maddox story: It was around 1968 and we were living in Salt Lake City. Some friends - two other couples - talked us into joining them on a trip to Reno Nevada. As we drove in to Reno, I spotted a billboard advertising the Golden Nugget Casino and featuring a show by Rose Maddox. I do not think that anyone else in our group had ever heard of Rose Maddox, my favorite female country singer of all time. But I pleaded with the others and they agreed to all go to see the show. It was wonderful. I think that it was the same group with her brothers that I heard on my ugly old radio many years before and oh yes, she did sing "The Great Philadelphia Lawyer".
The Road Shows
The Louisiana Hayride and the Grand Ole Opry both had road shows. I think that each of them would bring some of their regular performers to the San Angelo Auditorium once a year. I don't remember how much it cost but I had to get the cash together and be there.
The football stadium was just three blocks from my house. The high school, the junior college, and the Black (Schools were still segregated then) high school all played their games there. I was almost always there during the football season. If I wasn't selling for the concessions business I knew some places where I could sneak in over the fence or under the fence. But mostly I was working selling cold drinks, popcorn or peanuts. I was the kid going up and down the stands calling cooooold drinks! I made a few dollars and I knew how to spend it when one of those road shows came to town. I definitely remember seeing Little Jimmy Dickens, Hank Snow, Johnny Horton, Slim Whitman and of course, The Maddox Brothers and Rose. Also, Johnny and Jack and my favorite blue grass singer, Mac Wiseman.
I think that it was about the time I was graduating from High School (1955) that one of those road shows came to town. There was a young fellow named Elvis Presley who did a few songs on the Louisiana Hayride that I heard on my radio on Saturday nights - "That's All Right" (his version) and "Blue Moon of Kentucky" (his version). Presley was on the program and I was kind of curious about him but I was there to see Roy Acuff. I wanted to hear "Wabash Cannonball" and "Wreck on the Highway".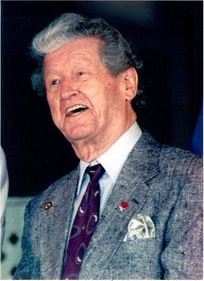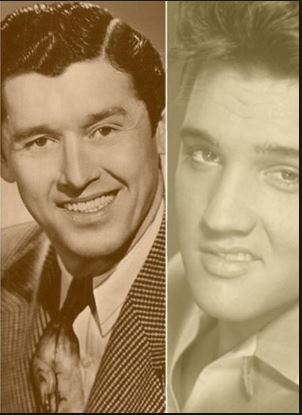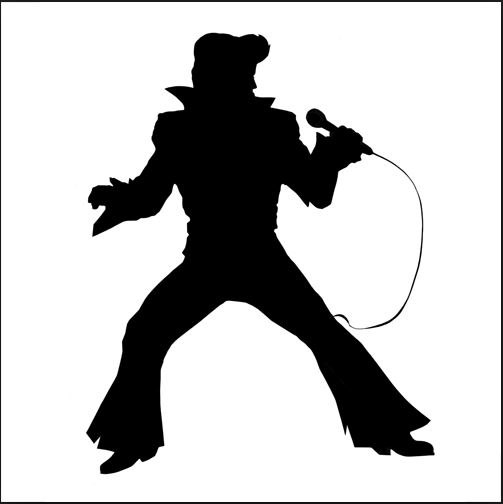 Here is how it unfolded: After a few acts, Elvis Presley was introduced. He came on the stage wearing a pink suit. A pink suit! He started his first song and suddenly a chorus of screams came up from the audience. That was when I noticed for the first time that there were a lot of young girls in the audience and they were screaming and jumping up and down. It was like a swarm of aliens had descended upon us and taken over a perfectly good country western show.

After he did "Hound Dog" (I think) and some other songs, they would not let him leave. The audience, mostly the girls, continued to scream and applaud and so there were a couple of encores and then he finally left. Next act - Roy Acuff. Roy Acuff and his band came out. He went to the mike looking at the audience and back behind the curtain and said something like "What was that"? I had never seen anything to compare to that performance by Presley and apparently, neither had Roy Acuff.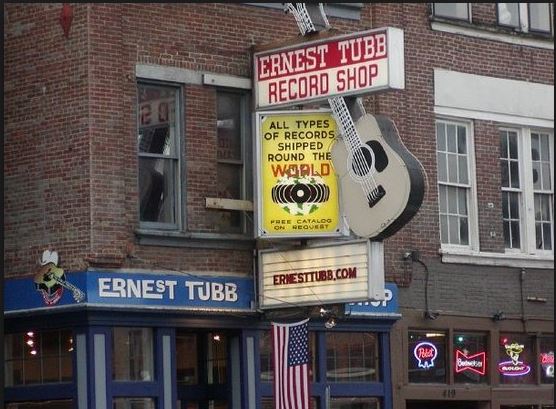 It was sometime in the 80's that I attended a conference at Vanderbilt University in Nashville. The main part of the campus faces a street which changes names to Broadway and goes right down town to the Ernest Tubb Record Store. I skipped a couple of conference talks and caught a bus. When I got off the bus near the record store I discovered that I was at the Ryman Auditorium. The new facility for the Grand Ole Opry had already been built and the Ryman appeared to be abandoned. I stood there for a while taking it in and then walked over to the Ernest Tubb Record Store. Inside was a huge picture of my hero and I loaded up a few records from the wonderful selection of country and bluegrass records there. My distinguished colleagues back at the conference would not have understood.
Gruene Hall and Bret Graham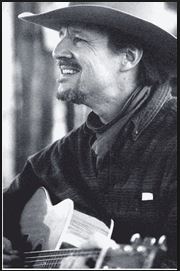 I knew about Gruene Hall before Diane and I moved to Texas in 2000. Been there before! But one Sunday afternoon when we stopped in for a beer, we discovered Bret Graham and his second Sunday show which he performs on the second Sunday of every month. So, we go down from San Marcos every now and then and enjoy it. And when I listen to Bret, the same thing always happens. I experience warm and affectionate memories of my early days and my involvements with the music I loved when I was growing up. And listening and singing along with his wonderful mixture of songs - his, and oldies - always sooths and elevates the soul. And guess what!? He does a very good imitation of Ernest Tubb.
Note: The only writing that I know how to do is about my own experiences. I can't help it - it is what I do. Some of my friends have told me that I am a good writer. They can't help it - they don't read enough good literature. I have posted on our web page some stories about various things.
Revised October 2018
Sam W Young