There is not a river that flows through Ozona, Texas but there is Johnson Draw. It runs from northern Crockett County through the town and on down to the Devil's River. The draw north of Ozona has flood control dams on it today but it did not in the summer of 1954.
There had been a heavy rain in San Angelo overnight and as we headed west on Highway 67 toward Barnhart, the evidence was that the rain had been even heavier there. We had a windmill job north of Barnhart and when we got to the dirt road portion of the trip, it became obvious that we were not going to get there. The road was washed out at every low spot and was so slick that we could barely get up the hills. Dad turned the pickup around and we went back to Barnhart. When we pulled up to the cafe, there were a group of people there, some with boats, and all talking about a flood in Ozona. They had heard that people were on the roofs of their houses. They were headed down there to rescue them.
We went on to Big Lake where the whole town was talking about the flood in Ozona and planning what to do to help. I do not know where those West Texas people came up with all those boats. Dad decided to try and drive down there or to at least see how close we could get. Another guy joined up with us and we headed south on highway 137. It turned out that highway 163 going south from Barnhart was impassible and so our route was the only one that worked.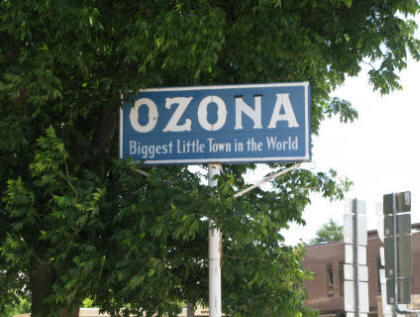 There were lakes where there had been sheep pasture. Water was flowing across the highway every mile or so. The pavement would be gone in some spots and it was clear from the driftwood in the trees that the water had been much higher. There were drowned sheep everywhere - they were piled up against the barbed wire fences and some were in trees. When we got into town we could see where houses had been washed away. I do not know if people were actually rescued from their roofs and there was not much talk about people missing. We found out later that most of the people drowned were actually unlucky travelers who were staying overnight at a motel near Johnson draw. That motel was completely submerged. Our only contribution was to give people rides from one point to another. We had one of the few vehicles that were running and people would flag us down and ask for a ride.
We heard that a rancher in the area said that he emptied his 6 inch rain gauge three times and it filled up again. Newspaper reports said that 16 people drowned that day and hundreds of homes were washed away. In the summer of 1957, I lived in Ozona and worked in a nearby oil field. When I rented a room for the summer, my landlady proudly showed me the water mark high up on the wall of my room - a brown line left from three years earlier.
The flood that we witnessed that day came in the middle of one of the worst droughts in Texas history. There were two points that measured 35 inches of rain in a 36 hour period. The details are contained in the following written by John Patton as part of the Flood Safety Education Project: See their website at FloodSafety.com:
Sheffield and its tributary, Howards Creek. On Johnson Draw (a tributary of the Devils River), a large part of the town of Ozona was severely flooded, and several people drowned. As much as 34 in. of rain was observed at two centers 22 and 40 mi north of Langtry.
Hurricane Alice formed as a tropical depression in the Bay of Campeche the early morning hours of June 24, 1954 - grew to hurricane intensity the afternoon of the 24th and made landfall 20 mi south of Brownsville late morning of the 25th. The system moved directly up the Rio Grande Valley before falling below depression intensity in the Devils/Pecos area the afternoon of the 25th.
Characteristic of Texas tropical systems - this one was most deadly at the stage it became dormant dynamically - It entered the "Core Rain" phase the evening/early morning hours of the 26th/27th. The Tom Everett Ranch on the Pecos River near Pandale and the Vic Pierce Ranch in Government Canyon between the Pecos and Devils River drainages, each received 35-in. centers in 36 hrs. The heavy rain was widespread over the Devils/Pecos area.
The first 35-in. center at the Tom Everett Ranch produced a crest of 1,050,000 cfs on the Pecos River at Pandale - Downstream near Comstock, 5.5 mi above the Rio Grande confluence, the first crest was at 7:30 AM 6/27, 82.0 ft, 695,000 cfs. The second crest was 1:30 AM 6/28, 96.24 ft and 948,000 cfs. It is estimated that 940,000 cfs of this crest was produced by the 3,504 mi2 of Pecos drainage below Sheffield - 268.26 cfs/mi2 over a major river drainage is a very large runoff rate
The Devils River crested at 5:00 PM 6/28 at 34.76 ft, 585,000 cfs at Pafford Crossing 4.5 mi above the Rio Grande confluence. The two crests (Devils and Pecos) would be out of phase entering the Rio Grande thankfully, but still produced a crest of 1,140,000 cfs at Del Rio.
The crest was at 5:00 AM 6/29 at 53.51 ft, 964,000 cfs downstream at Eagle Pass. Flow was to the heads of parking meters in downtown Eagle Pass, and the International Bridge was destroyed as flow was near 10 ft over the floor - The Southern Pacific railway bridge over the river was destroyed, and much of Piedras Negras on the Mexican side was underwater with a tragically high number of drownings. The river was 3 mi wide at Eagle Pass; Eagle Pass and Piedras Negras line the river.
The crest at Laredo was 61.35 ft, 717,000 cfs, at 9:30 AM 6/30. Flow covered over 200 city blocks of Laredo and a like number in Nuevo Laredo. Flow went through the Mexican customs building in Nuevo Laredo. Houses and businesses flooded miles from the Rio Grande as flow backed up Chacon and Zacate Creeks. Flow was 15 ft over the International Bridge.
A fortuitous side of the event occurred downstream at Falcon Reservoir. The reservoir was completed in October 1953, and the gates closed to begin impounding water. In this very severe drought period, the reservoir was practically empty going into the June 1954 flood. The lowest elevation before the flood was June 16 at 252.11 ft, 377,700 acre-ft - conservation level 301.2 ft, 2,440,000 acre-ft.
The inflow crest was 528,000 cfs at 3:00 AM July 1, 1954.
Within 3 days after the onset of the flood wave, flow was approaching conservation level from a near-empty reservoir - a level hydrologists had predicted would take 3 to 4 years. The crest elevation would be an elevation of 292.94 ft, 2,179,300 acre-ft, July 18, 1954, the first time releases exceeded inflow.