The Austin American Statesman ran a series of articles in the Sunday edition - stories sent in by people with a theme something like "Tales of Austin". I enjoyed reading those and decided to contribute one myself. The editor of the series accepted my contribution and made a few changes. She then instructed me to come to the paper to have my picture taken. The photographer told me to leave the hat on.
After my story appeared, some fun things happened: I was contacted by my cousin who is a UT professor, I received a package of information from a relative of J. Frank Dobie who contributed the Dobie house, and a lady who knew some of the teachers that I referred to wanted to get together with us. We did. And some neighbors brought me their copy from the newspaper. It was fun. 5,29,2019
Memories of My Grandparents' House
I drop Diane off at the airport; she was flying to Washington DC. Heading back on Texas 71 to our retirement home in San Marcos, I suddenly feel a sort of freedom - or maybe isolation. It is lunch time, there's no one home, and I think I will go down to East Sixth Street and have lunch at the Paradise Café. So I did. The comfortable surroundings of East Sixth got me to thinking fondly about Austin and my connections to the town. I thought about the places where I'd lived during my college days and wondered about my grandparents' house on 32nd Street. Was it still there? Or had it been replaced by some apartment building? I was in no hurry to get home. In an adventurous spirit, I left the restaurant and drove a route that would be close to the way I would have walked there from the University of Texas Campus - down Speedway to where the old Tower Drug Store was, then a couple of blocks to 32nd. I was relieved and very pleased to see that the house was still there.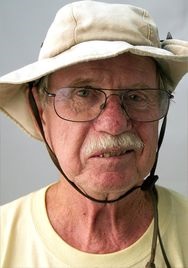 Growing up in San Angelo in the 1950's, Austin, to me, was a magical place far away where my "other" grandparents lived. We did not own a passenger vehicle but there were times when some of our family would catch a ride with a relative or neighbor for a trip to Austin. Except for getting car sick as we swayed in the back of an old strap spring suspended car, the trip was a glorious adventure. We traveled through Eden, Brady, Pontotoc and Llano and finally into Austin on South Lamar. On South Lamar there was always the smell of barbeque smoke and we might see who was playing at the Broken Spoke. The only two tall structures would now rise into view - the Capitol and the UT Tower. Finally, we would arrive at the quiet wooded neighborhood in the 300 block of 32nd Street.
Yes, the house was still there the day I went looking for it. I parked in the driveway and got out for a closer inspection. No one came out of the house to confront me. What would I say - My grandparents used to own this place? I saw that the porch had been framed in and a deck added. The porch back then had one of those metal gliders and a few chairs, and the concrete floor was painted barn red. My brother I and used to laugh about something granddad did once when he was sitting in that glider. There was a rolled up newspaper near his foot and a sleeping cat lying in another corner of the porch. He kicked the paper toward the cat and got a big laugh out of seeing the cat come awake and jump straight up in the air. The yard in those days had some big cottonwood trees, and I recall the racket that the blue jays and squirrels would make as they competed for space high up in the limbs. I kind of remember an "I LIKE IKE" sign in the yard. I would love to have seen if that kitschy painting of dogs playing poker was still hanging in the dining room.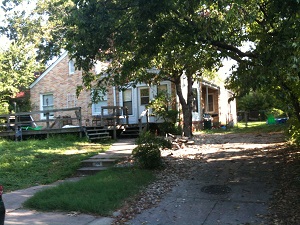 But I left and made my way down to Eastwoods Park a few blocks away. I wanted to test my memory about something else. I walked over to Waller Creek, where I could peek through the bushes and trees into a backyard on the other side of the creek. I remember being in that spot with my brother one day when he had told me that J. Frank Dobie lived there. Sure enough, as the two of us peered through the greenery, we saw two elderly couples sitting in lawn chairs in the back yard. One of the men had a lot of white hair, and there was no doubt that it was the famous folklorist. Then I drove around to Dean Keaton Street to see that the Dobie house is now the home of The Michener Center for Writers.
My grandmother was widowed and living alone by 1957,when I moved into Campus Guild Co-op on Whitis Avenue not far away, to begin the first of eight years I would spend at UT. Diane and I were married in 1964. My PhD dissertation was signed in 1965 by some of the best mathematics teachers in the world, and then the two of us started our academic careers, which took us to Utah and Alabama. Still, our ties to Austin brought us back to visit almost every summer. We connected with old friends and with Austin itself. The Philosophers rock statue at Barton Springs, which pays tribute to Dobie, Bedichek and Webb, has been described by the Austin American Statesman as "an irresistible connection to Texas' literary past". It remains one of my favorite things in Austin. Thank you, Austin, for putting that statue up there and also for not taking down a certain old house on 32nd Street.
Sam W. Young
August 16, 2012
---